When:
December 5, 2019 @ 2:00 pm
2019-12-05T14:00:00-05:00
2019-12-05T14:15:00-05:00
Where:
Mashpee Public Library
64 Steeple Street
Mashpee
MA 02649

Overview
The Mashpee Rotary is a five-leg, major regional transportation node with the intersections of Route 28, Route 151, Great Neck Road North, and Great Neck Road South. The Mashpee Rotary has been identified as a priority for investigation. The rotary is often congested, particularly in the summer months. Along the rotary and its approaches, congestion is a barrier to reliable inter- regional access between the towns of Falmouth and Mashpee to Barnstable and other towns on the eastern portions of Cape Cod. Residents and visitors navigating the rotary may be connecting to various destinations including Hyannis, North Falmouth, New Seabury, nearby retail and community destinations or the limited access highway, Route 6. There are prominent safety concerns in addition to the congestion issues. This study will serve as a continuation of the previous Route 28 study in Eastern Mashpee that included the Route 130/Route 28 intersection through the Orchard Road/Route 28 intersection.
Also of key concern is accommodation for all road users including motorists, pedestrians, bicyclists, and transit users. This is a heavily used corridor for non- motorized users looking to access their jobs and retail destinations from their neighborhoods.
The Mashpee Rotary is also identified as a high crash location according to the MassDOT 'Top High Crash Intersection Locations' portal. A review of the "Barnstable County High Crash Location" (Cape Cod Commission, 2014) lists the Mashpee Rotary as a top 50 crash location for several criteria:
Number of crashes – Rank #24 (28 crashes)
Equivalent Property Damage Only – Rank #25 (EPDO* 56)
*Equivalent Property Damage Only (EPDO) calculation multiplies 1 times the number of Property Damage Only crashes, 5 times Injury Crashes, and 10 times Fatal Crashes.
Public Participation Goals
The goals of the public participation plan are as follows:
Gather input from community stakeholders and the public to establish a vision for the corridor
Solicit feedback of potential alternatives
Coordination Meetings
As key points in the project, as identified in the project timeline, coordination meeting will be held with CCC, Town, MassDOT, and CCRTA staff. Coordination with the Mashpee Wampanoag Tribe and other interested parties will also occur at these key points in the project.
Public Meeting – Listening Session 
A key step of this project is to meet with local stakeholders including local residents, local business owners, and other interested parties. With input from Town Staff, a concerted effort will be made to incorporate a representation of the adjacent Title VI protected populations. The purpose of this meeting is to:
review and prioritize project goals
identify opportunity areas and constraints
discuss potential improvements for the corridor
Commission staff will prepare a summary of comments received at this session.
Public Meeting – Review of Concepts
The Commission staff will present conceptual design plans for review by the public. Commission staff will incorporate feedback from the public into refined alternatives. These refined alternatives will be included in the draft report presented to Town staff.Future Alternatives Public Meeting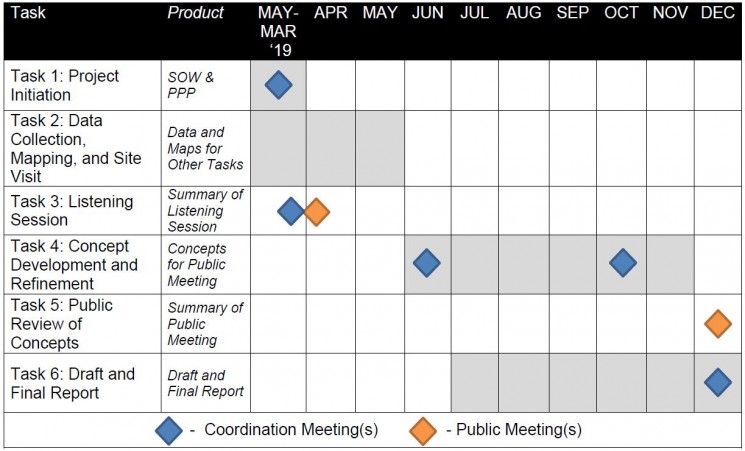 Please Note: This event has been reposted from the Cape Cod Commission calendar.